Have you ever heard, a house is not a home? It's not, we agree. In fact, rooms can be just walls of drywall filled with spirit-less furniture. We believe that those walls deserve to come to life and tell their own story. And we prefer that story to be your story.
We started creating 'good juju' walls a few years ago and systematically placing them in EVERY bedroom we did. Juju or ju-ju (French joujou) is a spiritual belief system that incorporating objects, such as amulets creates a space of protection and good energy. And let me tell you the moment clients understand the vision behind it - they can't get their good juju objects together fast enough!
The secret to creating a positive energy wall, it to be selective. You want to only identify pieces that mean something to you. For example, Nina stumbled on this beautiful, hand-made Indian tapestry while in Vancouver. Not only was she in her favorite city, at her favorite design store (The Cross Decor & Design) but she had also just gotten engaged that weekend - good juju all around!
I adore handmade pieces from India, but this one spoke to me in every which way. The colors are light and yet uplifting. The piece is feminine yet strong and the amount of details created from the hand stitched floral components just blew me away.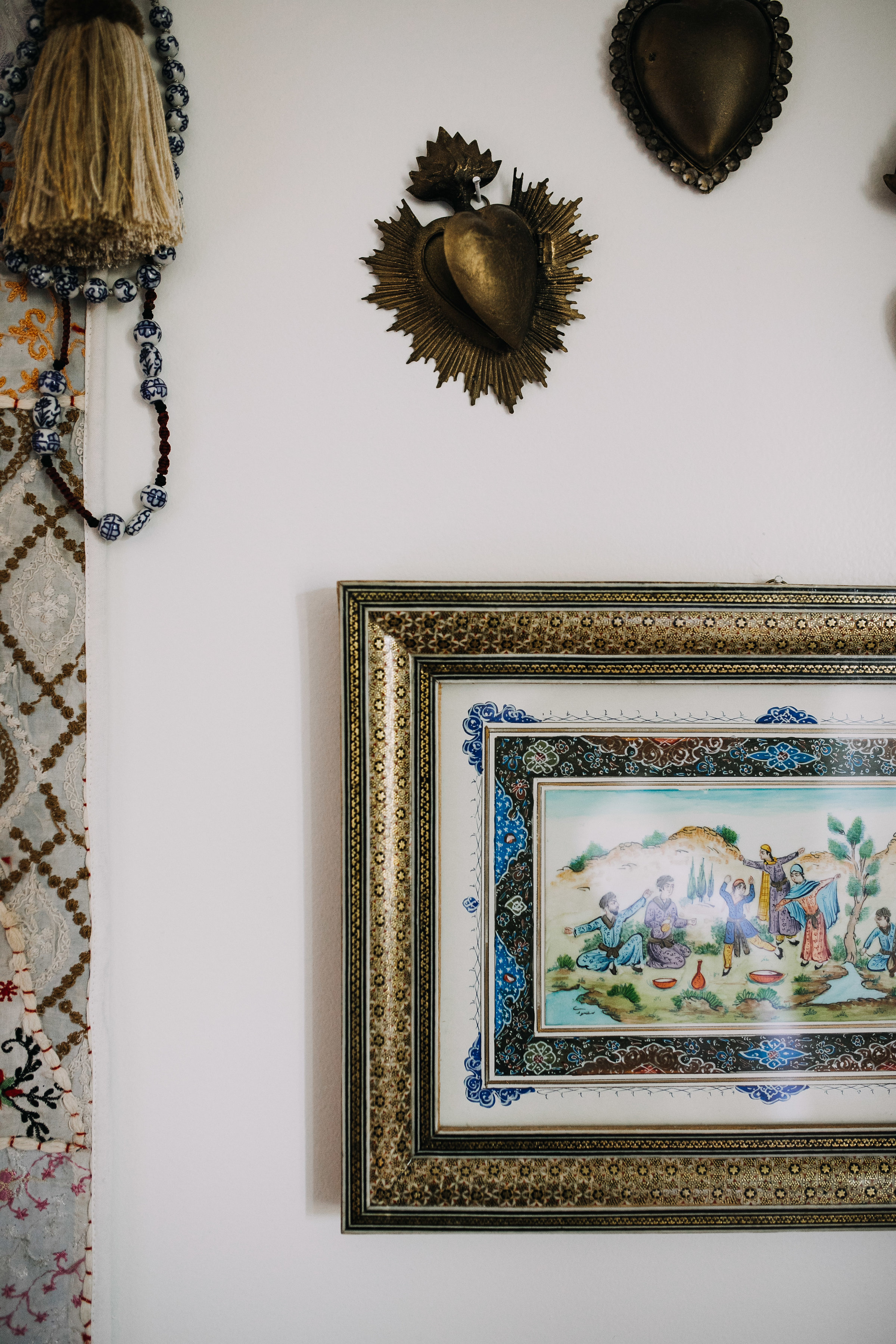 Now, anyone who knows us can tell you that we are a lover of all things evil eye. We travel all around the world and the moment we find something that is a descendant of the evil eye, it goes home with us! The evil eye is a curse believed to be cast by a malevolent glare, usually given to a person whey are unaware. Many cultures believe that receiving the evil eye will cause misfortune or injury. Talismans created to protect against the evil eye are also frequently called 'evil eye'. If you look close enough on the bottom right above, you will see the shape of the evil eye embroidered into this tapestry. The evil eyes that are hung on the fabric are from our travels to Turkey and France. I would be lying if I said I didn't foresee many others slowly being added to this collection here - guilty!
The picture we chose to hang on my wall is one that I found at an antique store recently. The details of the piece make my heart sing. It is rich in color and most importantly, vibrant in spirit. It depicts villagers dancing and celebrating what I presume to be LIFE! Something we should all take the time the time to do. This piece is my reminder of that. And that is exactly what good energy walls are meant to do, remind, remind, and remind.
The remainder of the wall has tassels, delft blue and white prayer beads, and John Derian prints that I have framed. It basically contains anything and everything that makes me feel good. And that's exactly what good juju walls are for intended for - to start you off on the right foot! More good energy, more of the time. Who isn't a fan of a good juju wall?
Happy Wednesday everyone!
Xoxo